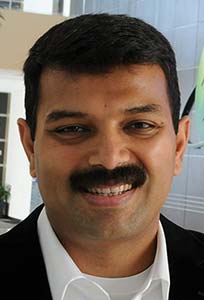 Dharmesh Jain
(Advisory Founder)
Greeting from CREDAI – MCHI Women's Wing!
It gives me immense pleasure to welcome you all on the momentous occasion of the 'Installation Ceremony' of CREDAI – MCHI Women's Wing. CREDAI – MCHI has always envisioned – to provide structure and strength to the Corporate Social Responsibility (CSR) activities of the developer's fraternity. What would be better than having a committed & dedicated women force for moving forward this vision? Women's Wing is determined to make a change in the lives of the underprivileged. A focused agenda has been created which comprises of supporting Mobile Crèche program of Government of Maharashtra, Scholarships for deserving EWS Students, Skill Development for construction workers and hosting medical and health awareness campaigns.
CSR activities have always been of paramount importance for us at CREDAI – MCHI and our developer members have taken some landmark initiatives in the field. Even though they have been adding skills to their work – force, providing better sanitation facilities for the laborers' on the construction site, imparting education to EWS children and regularly conducting health awareness camps, creating infrastructure and facilities for community development such as playgrounds, schools, hospitals etc. However, still the real estate sector does not get due credit for this phenomenal social work. Now the time has come to take this activity to another level by creating awareness about our contribution to the betterment of society.
Now with the objective of providing new dimension to CSR activities, CREDAI – MCHI has launched the WOMEN'S WING this year, a major step towards harnessing women power in a more constructive manner. Our Women Members representing Real Estate industry are already doing social work in a big way. Now under CREDAI – MCHI umbrella, this would be an organized, consolidated & concerted effort to create a new benchmark in the field of CSR. It is worth noting that our women members have always been passionate about the cause of children of construction workers, be it their education, health, hygiene or any other requirements or skill development of construction workers. CREDAI – MCHI Women's Wing has 10 – Core founding members who have enthusiastically come forward for this great cause. Going forward, CREDAI – MCHI Women's Wing has earmarked some remarkable initiatives, which would be rolled out soon.
I invite all of you present here from the fraternity to join hands for this noble cause by becoming members of the wing.
I wish women's wing all the best in this unique endeavor, where CSR is not just an activity, but a way of life!